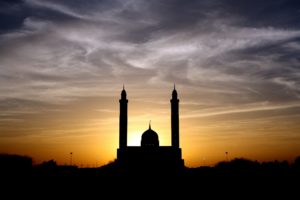 A murder probe was started on Thursday evening after a man was found stabbed at Cunningham Place, Central London. Armed police officers were seen surrounding the Central London mosque which is located a few meters from the scene of the incident. Two suspects associated with the unfortunate incident were seen entering the mosque. The Scotland Yard Police sealed the mosque, for the better part of the evening, in pursuit of the suspects who were believed to have fled into the mosque after the incident.
Witnesses Accounts
According to witnesses, the knife victim, a male in his 20s, had earlier been seen talking to the two suspects. Their talk escalated into an argument, and the two men stabbed the victim, leaving him with serious knife wounds as they fled into the mosque near Regent's Park. The victim, however, succumbed to the knife wounds shortly after arriving at the hospital.
Armed police responded minutes later to the incident, and they followed a lead to the Mosque a few meters from the scene of the horrendous episode.
Worshippers were locked out of the mosque as police conducted a thorough search in the mosque as the main gate to the mosque remained closed. However, some worshipers were seen leaving the mosque later that evening, after being allowed to go by the police.
According to a taxi driver who was driving by the mosque, he saw a mass of people outside the mosque and several armed police around the mosque. He said he knew the incident was serious when he saw a helicopter above the mosque.
Most witnesses linked the heavy police presence at the mosque and the stabbing incident as a terror attack, but the police spokesman dismissed the terror attack claims and further clarified about what had happened. The police spokesman said police are still in pursuit of the two suspects and bring them to justice for the murder of the victim.
A section of A17 Park Road which had been barricaded by the Metropolitan Police was littered with pieces of used medical equipment suggesting first aid treatment was administered to the victim.
The Labour MP for Westminster North, Karen Buck said that the unfortunate incident deeply saddened her and she assured people that the police are at the scene of the murder and that they are in pursuit of the suspects associated with the killing. She also added that the police are in contact with her and that any further information from the police will be communicated to the public.
Shirley Mist has been involved in fashion and design for many years. She has also written extensively for many online publications. She currently writes for The Tribune World and is a valued member of our team.