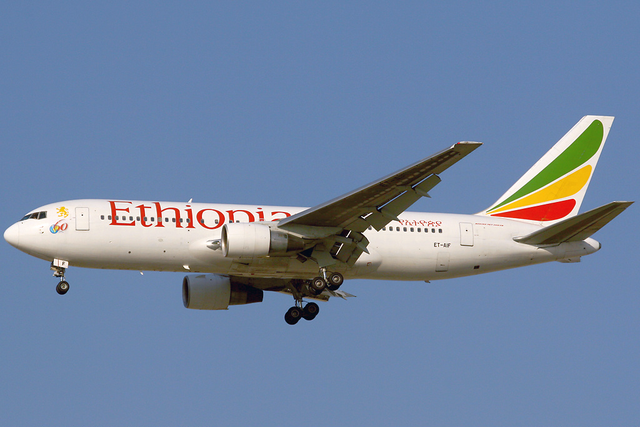 The Ethiopian government has set aside an official day of mourning on Monday to remember the lives that were lost on board the 737 Max 8 Boeing Jet that plummeted to the ground on Sunday, March 10, 2019. Passengers from 35 different countries along with all crew members from Ethiopian Airlines perished in the horrific crash, bringing the death toll to 157.
Flight ET302 took off from Adidas Ababa at 8:39 am heading for Nairobi, Kenya, but went down approximately six minutes after take-off. Eyewitnesses report seeing thick, dark smoke coming from the aircraft as it swerved out of control downward, indicating that the plane was on fire before it crashed 31 miles South-East of Ethiopia's capital in Hejare near Bishoftu. It is believed that many of the passengers on board the plane were heading to an immense U.N environmental conference scheduled to begin on Monday, March 11, 2019, in Nairobi. The "black box" containing the plane's flight data and cockpit voice recorder has been found, and the voice of Senior pilot is heard reporting technical difficulties and requesting permission to return to the airport and land; however, approximately two minutes after making contact at 8,600ft in the air with a ground speed of 144mph, communication is lost leaving investigators baffled as to what actually caused the crash. Meanwhile, rescue workers continue to search through debris and mangled steel for the remains of all 157 victims.
Since the incident, Ethiopia has decided to ground all of their new 737 Max 8 Boeing Jets until they can determine whether or not the Boeing Jets are safe to operate. Other countries such as China, Indonesia, and Cayman Airlines has also decided to ground their jets until specific questions can be answered through the ongoing investigation. This is the second plane crash to take place in just five months. Indonesia experienced a similar incident when their 737 Max 8 Boeing crashed into the Java Sea shortly after take-off killing all 189 passengers. Most of the victims are Kenya nationals, and although Kenya has not marked a day of mourning, the government has sent its condolences to families who have lost loved ones.
U.N Agencies Flys Flag at Half Mast for Colleagues and Other Passengers
The United Nations offices across the globe are flying their flag at half-mast in remembrance of the 157 people that died on broad flight ET302 on route from Adidas Ababa to Nairobi, including their colleagues and aid workers from affiliate agencies. At least 19 aid workers from the World Food Program, Food and Agricultural Organization and the International Organization for Migration were on board the ill-fated flight heading for the United Nations Environmental Conference. Families of the victims are devastated and torn as they await further news regarding the crash and whether or not the remains of their loved ones have been found. 19 British nationals have been reported to have died, along with 18 Canadians, and 25 Kenyan nationals. Other countries include Germany, Italy, India, and Egypt.
Clear similarities have been found between this crash and the Lion air crash in Indonesia last October have been confirmed by France's civil aviation investigation bureau.
It is suspected that the problem lies with the new flight-control system which is supposed to stop the plane from stalling, but in both cases the pilots struggled to control their aircraft.
Regulators however have said it is still to early to draw conclusions about the exact cause.
Boeing have been working on an update to the software used on the 737 Max which is expected to be released in April.
Further to this the US government has now ordered a review of how the Boeing 737 Max got its license to fly with transport secretary Elaine Chao asking the US inspector general to audit the aircraft's certification process.
Shirley Mist has been involved in fashion and design for many years. She has also written extensively for many online publications. She currently writes for The Tribune World and is a valued member of our team.