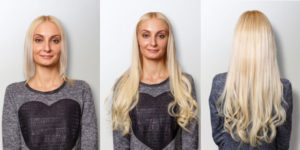 Who has never dreamed of having long hair, both as an adult and as a child wanting princes' hair.
Women often want a quick change in hair style so it is no wonder that long hair is back in fashion, or at least the illusion of it.
Hair extensions have improved massively of the last few years, and you can now get some amazing looks. You can do it yourself, however using a beauty salon that specialise in hair extensions can give you that cover girl hair style you have always wanted.
They will also be able to give you professional advice on the types of hair extensions that suit your particular type of hair.
If you go to Aurora Beauty salon you won't be disappointed because Aurora's workers want to help every woman to have the hair of her dreams.
Do you want amaze everyone with fantastic hair?
If you have been afraid to use hair extensions because you think that it looks like a wig you don't have to worry.
The hair is one of the things that makes a person attractive or not and for this reason all of women want a beautiful, glossy, smooth, voluminous locks.
Aurora only work with high-quality products and they combine expert knowledge with 100% human hair to have a natural look.
There are different services that you can try from Aurora.
 LA Weave is applied using Micro Rings. Micro Rings are hiding to give a nice discreet look. These hair extensions last have 8 -10 weeks and they are 100% re-usable.
 Micro Rings are a very popular method in hair extensions.  Using this method there are small rings coloured to match your hair colour so no one can't see them.
These extensions can last you 3-5 months as long as you come back every 6 weeks for maintenance.
 Tape Weave is one of the newest methods in the hair extensions industry. This method is very popular because it is very discreet look and is fast to apply. Tape Weave is great for people with fine hair.
 Fusion Bonds is very discreet hair extensions. The keratin protein bond is transparent to create a seamless blending of the hair extensions with natural hair.
If you don't know which is the best service for your hair you can get a free consultation to discuss the different methods available.
Price depends on the method used, the colour and length of the extensions.
Shirley Mist has been involved in fashion and design for many years. She has also written extensively for many online publications. She currently writes for The Tribune World and is a valued member of our team.