Your home is your sanctuary, and it should reflect your style and personality. Home improvements tend to be expensive, but the value it adds is worth it. Sometimes all it takes to get the perfect interior space is flooding the room with natural light. With a glass extension, you can enjoy the breath-taking views from your living room. The traditional glass offers the same fantastic view, but during summer, the heat will be unbearable, and you might freeze in the cold season. Unlike a conservatory, glass extensions have a consistent temperature and are beautiful. So what exactly is a glass extension? And how can you install it? Here is a guide on glass extensions and the options available.
What Are Glass Extensions?
A glass extension is a boxed structure made from glass. It is perfect for anyone seeking to add extra living space and enjoy a seamless view of the garden. The continuous indoor and outdoor space makes the house look spacious. Most extensions are energy-efficient. Therefore, they remain warm during winter and are comfortable in warm weather. For some great examples of glass extensions see Glass extension portfolio from Glass Extensions UK.
How Do Glass Extensions Benefit Your Home?
Apart from the value glass extensions add to your house, they are attractive, especially if they are built to complement the overall style of the home. If you have limited space, extensions are perfect for adding space. Of course, there is also the beauty of having a room made of glass. The glazed extension provides the most spectacular views of the landscape. You also get to enjoy the sunlight from the comfort of your house. The glass is built to prevent excess heat and glare. They also reduce heat loss in cold weather. Therefore, if you want to light up your house with natural light, glass extensions are an ideal option.
Installation of Glazed Extensions
Just like other building extensions and conservatories, you will require planning permission for glass extensions. However, you won't need permission if the extension has a height of below four metres and is away from highways and roads. However, you will need a permit if the extension is to be attached to a listed building. To ascertain whether a permit is necessary, you need to consult an expert. If you are hiring an architect to install the extension, they will advise you on the regulations before construction begins.
You may be planning to install a glass extension yet your house isn't fit for one. The determining factors include the age and location of your building. If you are using the extension to extend a room, ensure the glass is on the right side of the house. Too much glare can be uncomfortable.
Having a budget helps track the cost of installation. You need to find out how much it will cost you to buy the materials and pay for labour. Generally, glass extensions are quite affordable. However, you should watch out for additional expenses that increase the cost. You will spend more on the glass designs, including shaping and testing the glass. You can save money by buying ready-made designs from a local contractor. A perfect glass extension requires a professional designer and contractor to set it up. Therefore, get an estimated cost of labour from the contractor. You can also use an extension calculator available online.
Glass Extension Design
Despite being an all-glass space, there are various design options you can use to personalise the extension. The structural components provide an opportunity to make the extension unique. A common element is the frames holding the glass. Ensure they are thin and easily fade into the background. An ideal option is a powder-coated aluminium which has numerous shades to give the extension a modern and classy look. The types of panels also influence the overall appearance. A lot of heat is lost through glazing. And with the strict building regulations, it is vital to maintain high thermal efficiency and reduce the glare of the sun. Therefore, you should consider using double or triple glazed panels, which are more energy-efficient. Besides, the glazed systems are stylish. Another design option for glass walls is adding a roof with openings on the ceiling for privacy.
Extension Ideas
Most glass extensions are tailor-made to suit your house and the design you want. If you wish to open up your space and flood it with natural light, then construct an extension with a seamless view. The clear glass makes the outdoor part of the indoor space. You can also shape the glass according to the design of the building. A glass roof extension is perfect for storey houses. However, the extension needs to follow the geometry of the roof. You can also build a double storey extension to give an illusion of two living rooms. Glass extensions can also be attached to dining areas and kitchen to create a cosy and inviting space.
Glass stairs
Glass staircases have also become more popular over the last few years with some stunning designs available checkout Jarrods for some great ideas on what can be achieved for your home.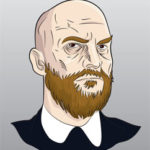 Has worked for many Internet marketing companies over the years, and has contributed to many online publications. If there is a story, he will find it.