Adding a glass extension to your home can help create an extra room, revitalise your living space and add value to your property. Here are five great reasons why adding a glass box extension is the latest must-have addition for any home.
1. Make the Best Use of Natural Light
A glass extension is a great way to flood your home with natural light. Unlike traditional conservatories and extensions, a glass extension offers floor to ceiling windows, allowing for maximum benefit from outside light. However, that doesn't mean the space has to stay exposed if you don't want it to. Most glass extensions also come fitted with the option of blinds, so you can enjoy the sunshine or maintain your privacy as it suits you best. This also makes a glass extension the perfect hideaway room in your home day or night and the fully glass interior and exterior keeps it easy to clean and maintain.
2. Create Extra Space
In today's current property market, when looking for extra space in your home it is often a more cost-effective option to extend the space you already have than move. Whether you are looking to create more room for your children to play or are seeking a separate space for some peace and quiet away from the rest of the house, choosing the addition of a glass extension can be the perfect solution. It can even make a great space to entertain guests or provide an office with a view. Whatever the style and taste of your home, there is a glass extension structure to suit you – from the contemporary to something more classic. No matter when your home was built, there will be a design to match. With so many different companies now offering a glass extension service, make sure to do your research in order to find the best deals.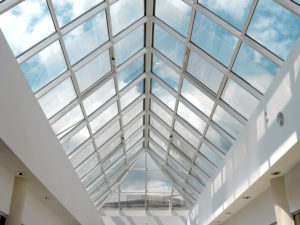 3. Enjoy Your Extension, Whatever the Season
As most glass extensions come as standard with double glazing, you can enjoy a room that holds its warmth in the winter and stays cool during the summer months. This makes your glass extension cost effective in terms of heating, so you don't have to worry that you are losing heat through an ineffectively insulated traditional conservatory. If saving energy is a key factor in your decision when choosing your glass extension, why not ask for triple glazing? This new technology can see you saving a whopping 40 percent on your home heating bills.

4. Bring Nature to Your Doorstep
A glass extension can help bring the outdoors, indoors. The British weather can always be unpredictable but a glass extension allows you to enjoy your garden whether rain or shine. When the weather is good, most glass extensions offer fully bi-folding doors, so your extension can literally lead into your garden if you so choose. A great way to make the most of your home, you can get up close to the wildlife that visits your garden without having to leave the comfort of your sofa. It is also a fantastic way to enjoy younger members of the family playing outside whilst still staying warm and snug indoors. Your garden is an integral part of your home and a glass extension allows you and your family to enjoy and make the most of it all year round.
5. Add Value to Your Home
Not only does adding a glass extension to your home by giving you a whole new room to enjoy, it can actually see a significant rise in your property price too. There are plenty of options to choose to customise your glass extension, such as door choice and choosing to blend the extension into the existing property build or make it a stand out feature. Whether you are looking to stay in your home long term or not, it is always good to add value to the sale price and a glass extension can be enjoyed both now and in years to come. More desirable that traditional conservatories and extensions, a glass extension is sleek, modern and elegant – all desirable qualities for current homeowners and potential buyers alike. The best part is that most glass extensions don't even require planning permission, although do always check with your local council before building work commences. By not having to pay for fees associated with planning, a glass extension is already a much more cost-effective choice that a more traditional extension, creating a whole new part of your home and helping to upgrade your property all whilst helping to save you money in the future too.
With so many reasons to add a glass extension to your home, why not take the time to explore the different designs offered online and find the new perfect room for your home.
Shirley Mist has been involved in fashion and design for many years. She has also written extensively for many online publications. She currently writes for The Tribune World and is a valued member of our team.