If your office is constantly debating what to do for the next meal, it is time to consider office catering.
There are lots of situations that are improved by office catering.
Long meetings where everyone needs a quick coffee and a slice of cake.
Special meals as rewards to celebrate successful deals.
Long-hours during crunch time and people need a better dinner than ordering in.
You want your company to be more attractive to potential employees.
You want to keep up with the competition.
Your teams are working on a fitness program together and want to start a special diet.
Potential clients are visiting your office and you want to treat them to lunch during the meeting while you show off everything you have to offer.
You want to organise an office party.
Your employees are tired of vending machine snacks.
You want to provide Town Hall meeting attendees with drinks and snacks as a reward for turning up.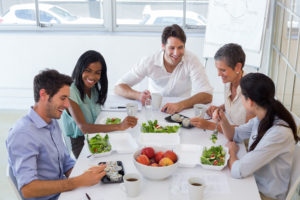 Why is Office Catering Good for your Business?
Understanding the benefits of office catering means understanding why offering free food is important in a business environment.
Food brings people closer together. Everyone needs to eat and it provides the perfect opportunity for your employees to escape work routines by spending some quality time together. The alternative is having employees eat alone at their desks. This may be okay during crunch time when deadlines are looming, but there is plenty of research that shows that employees are more productive when they are given more social and outside time.
Most people eat alone for more than half of their at-work meals. A significant majority actually eat by themselves every single day.
When a team eats together it confers multiple benefits. Colleagues communicate more, trust and camaraderie build and happiness, job satisfaction and productivity all increase. These positive effects are so evident that large companies like Google and Apple have made it a priority for their employees to share meals where possible.
Providing food is about more than the benefits of people eating together. The time spent invests in numerous additional benefits such as:
Encouraging your employees to recharge with a break from working.
The ability to provide healthy alternatives to snacks and packaged-meals.
Morale and productivity are boosted with interesting breaks from ordinary routine.
It provides the opportunity to demonstrate how your company cares about the health and wellness of its employees.
Your employees are proactively encouraged to maintain a healthy work-life balance with meaningful breaks.
You can show how your company care both in working hard and taking breaks.
Office catering company Fooditude express "It's not just about how healthy our food is, or how balanced in calories, it's also about how it makes you feel, and how we can contribute to your overall well-being."
Why Office Catering is Important
It is impractical for you to take the time to research, organise, set up, serve and then clean up a meal for your office. However, it may still be your responsibility to see that those under you are well fed. It may be up to you to show to your team that they are valued by organising a successful work event.
Ordering delivery from a restaurant is a tricky business and details tend to be left out or ignored. The time and date need to be exact; you need precise numbers and allergy requirements. There is little room for last-minute flexibility and the restaurant of your choice may not be able to handle the quantity you require on a tight deadline, never mind serve it appropriately for the event. Guaranteeing quality and consistency delivered in a timely fashion is all but impossible.
Office catering eliminates all of these problems.
Professional corporate catering companies remove the stress from catering for your team. Building up a relationship with a caterer also makes repeat events run more smoothly. Your team's dietary requirements and preferences are easily tracked and updated. All you have to do is pass on all the relevant information about your employees the first time and rely on the professionals to do the rest.
Then, for future events, all you have to do is let the company know what your plans are. Remember, since they are the professionals, they will be able to help you with any details you are less than certain about. They will also have plenty of suggestions to help you come up with ideas for special events or new ways of doing things if you ever get stuck.
Shirley Mist has been involved in fashion and design for many years. She has also written extensively for many online publications. She currently writes for The Tribune World and is a valued member of our team.