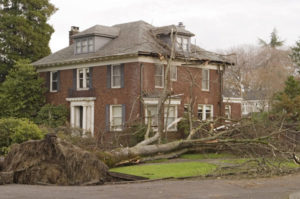 The effects of storms can cause significant damage to any type of roof no matter what the structure. Tile, slate, flat roofs, from small domestic roofs to large commercial or industrial buildings the storms take no prisoners, large or small as the effects of Storm Dennis have shown.
We in the UK have over the space of a fortnight  experienced two major storms in the month of February 2020 and most of the UK has been badly affected with 90 mph winds and severe flooding causing immeasurable damage to homes and businesses.
The gale force winds have caused damage to roof tiles and slates being dislodged, with some roofs being completely blown off.
If you have been affected by the storms there are a few things to do to assess the damage, according to Paul Chapman at Strandek, a specialist waterproofing company that deals with leaking roofs and gutters.
The best thing to do is walk around your property (making sure its safe to do so) take as many photographs of any obvious damage, check your fascias, gutters etc. If your roof has been damaged there will probably be water ingress. Be sure to check out light fittings, ceilings, and the loft space area.
Again take photographs – it's also important to time and date your notes as your insurance company will ask you for this information.
The insurers will ask you to obtain quotations from a reputable company who can provide solutions to your problems either repairs or complete renewal.
Shirley Mist has been involved in fashion and design for many years. She has also written extensively for many online publications. She currently writes for The Tribune World and is a valued member of our team.