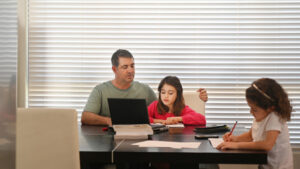 Being there for your children no matter what happens is important to all loving parents and extended family members. But what happens when relationships break down at the heart of any family, and a father separates from the child's mother? What rights does a father have and when can he see children when separation happens?
Thinking of separating or going through a divorce?
If you're a father thinking of whether to go through a separation or divorce when children are involved, it's important to understand your rights and responsibilities from the start. This blog aims to give you some initial free advice, with points to consider as you navigate this situation for yourself. This aims to help you provide you with an initial guide on what you may be entitled to and what you might need to do.
It can feel like this is an extremely confusing and complicated situation to be in. Don't feel alone. There are many other father's in similar situations to you and understand how you are feeling. There are many specialist advisors including solicitors and lawyers who you can turn to for professional advice at any stage.
If you feel you'd like to talk to someone, please get in contact for an initial free consultation now with specialist family law solicitors who should be able to help/
Can you keep relations civil with all parties throughout?
The most important mentality to keep in mind from the start of any separation or divorce, especially those involving children, is that it will help all parties involved if, you can keep relations as civil as possible with your partner, soon to be ex or ex partner.
This will hopefully enable any children's needs to be kept at the forefront of important discussions. It will also aim to encourage a peaceful atmosphere to be and for all parties to be talking as clearly as possible about the child's needs in what can feel like an emotionally intense situation.
At this stage, you may or may not need to liaise with a specialist legal firm such as ourself. Please read on to find out more on whether the legal system is integral to clarifying your rights and access to your child or children.
Remember, your ex or soon to be ex has no ultimate rights to stop you from seeing your children – without the backing of authorities. Being informed on the legal situation is to understand your position and rights is imperative.
Armed with a full understanding of your legal rights and any processes which could be involved in your case, you will be ready to follow any procedures, working towards an agreement that is best for your children.
Being open and clear from the start
With even happy relationships being complicated at the best of times, and in the worse of times your children potentially in the middle of a very unhappy household, it's important as you start going through any separation, that you aim to make things as clear as possible for yourself, the mother and children.
It's possible to work together to draw up some kind of agreement which would be useful to pull together when you are going through any initial separation. The agreement will hopefully prevent any on-going arguments about access to children and who is doing what and when in the long run. There are sample separation agreements we would be happy to provide you with, or we can discuss this process with you over the phone initially before helping you draw up an agreement of your own.
Do you have parental responsibility?
It's important to know your rights as a separated father so you can be best informed through what can be a challenging time for everyone. Understanding what rights a father has is important so you can consider your much-loved children, the rights you have and role in their lives are outlined in legal rights.
All mothers have legal rights and responsibilities as a parent – known as 'parental responsibility'. As only most fathers have this same right, fathers need to look into this aspect of the law.
According to UK law, a mother automatically has parental responsibility for her child from birth. Parental responsibility is an important factor for father's who usually have parental responsibly in one of these cases.
• if he is married to the child's mother.
• is he is listed on the birth certificate (after a certain date, depending on which part of the UK the child was born in).
If the child's parents are married when its born, or the parents jointly adopted a child, both parties have parental responsibility automatically. They both keep parental responsibility if they divorce in this instance.
Are you an unmarried father?
Increasingly not every family centres around a marriage.
If you are an unmarried father and need to get parental responsibility, you can do this in one of the following ways:
• jointly registering the birth of the child with the mother (from 1 December 2003).
• If the mother agrees, you can both sign a parental responsibility agreement.
• If the mother disagrees with you having joint parental responsibility you can apply to court.
Try not to feel scared or intimidated by the thought of going to court if that's required. If you feel that parental responsibility is worth fighting for, don't let any court forms or what can feel like a very formal system put you off. The legal system is in place to protect caring adults and their children for the best.
What will the court consider if I have to apply through them?
If you do need to apply to the court for parental responsibility, the court will consider your application and the following factors:
• How committed you are as a father.
• The attachment between you and your child.
• Your reasons for applying for the order.
Are you going through a divorce at the moment?
Dealing with a divorce can be very difficult both from an emotional and financial point of view. It can be very painful and upsetting, particularly if there are children involved.
Although it can be extremely hard, you have to remember that you want to gain a good quality of life again, and to not be stuck in court arguing. Being civil with your ex, and trying to compromise continue to be key behaviours to keep in mind.
Do you need legal advice to go through a divorce?
Many people choose to liaise with lawyers to get the best possible advice on divorce, especially where children are involved. When children are part of the family there are various forms, processes and factors such as Child Contact form and financial arrangements to establish (such Child Support) along with the division of assets – which can be quite complex.
Do you have to pay child support?
As a parent, you are legally bound to Pay Child Support. The amount that you pay is worked out by the Child Support Agency (CSA) and will depend on a number of things including how much you earn and how you have split custody.
When does parental responsibility end?
Your parental responsibility and child support continues until your child leaves school or further education, which can be as young as 16 and it naturally finishes when they are 19.
Will you have to go to court?
This depends on the situation you are in and whether contact arrangements, finances and the division of property can be agreed upon amicably, then you may not need to go to court. But if you disagree or you ask the court to make an order for financial support, then you will need to attend a court hearing.
Who makes decisions on the child's everyday life?
The parent who is the main carer and provider of a residence to their child, makes everyday decisions. In general, the mother tends to be given residence unless you or the courts decide differently. If your child is staying with their mother mainly, this means she can make decisions about their daily life without consulting you.
What visitation rights do you have?
It is possible for you to organise your visitation schedule with your partner or ex partner – if you both feel comfortable with doing so. If this isn't possible, the next step is to apply for a contact order, which is a formal way of going through an assessment to determine what visitation rights you have.
In order to apply for a contact order, parental responsibility needs to be established first. Dependent on where you live in the UK, you'll find there is a particular contract order application process in place. If you would like advice on this, or are confused, please get into contact for a free initial consultation now.
What rights does a stepfather have to see his children?
It's not unusual to be part of a stepfamily. You may have to provide a strong loving environment for children no matter what. Something to bear in mind is that legally a stepparent has no rights over a stepchild and it's advisable to acquire stepparent parental responsibility.
Previously, this could only be obtained by adopting the child or obtaining a residence order. However, stepparent parental responsibility can now be obtained in the following situations:
• When the court makes a child arrangement order specifying the child lives with the step-parent.
• When the stepparent adopts the child.
• When the court has made a parental responsibility order.
• When a parental responsibility agreement is signed to which all parental responsibility holders consent.
With this acquired, the stepfather will have the same duties, responsibilities and rights as a natural parent.
What will happen with the home?
If you share a family home with your partner, considering your rights and options before for future living agreements before making any big decisions is advisable.
Your housing rights will depend on:
> The type of housing you live in
> Whether you are married or in a civil partnership, or cohabiting
> If your ex-partner is violent and/or refuses to leave the home
> Who owns the home, is it rented and the names on the agreements.
If you feel it's important for your ex partner to leave the family home for safety reasons, seek professional advice immediately. With legal support, you might be able to apply for a court order to help – called an occupation order which will aim to ask your ex-partner to leave so you can stay in your home.
Bear in mind, this process depends on whether you are married or in a civil partnership, so it's best to seek legal advice to understand the best way forward for you and your family.
You're not alone
Always remember through any difficulties you encounter, that there is someone who can provide you with the support and advice you need.
Separations can be full of emotion, pain, confusion and communication challenges. You aren't alone. You're not the only father who is in this situation and we hope this blog has helped provide some introductory information to guide you.
Always aim to move forward with the happiness and well being of you and your family in mind, especially any children within the family. Every single child is different, and each and everyone will react in their own way to a family separation or divorce. If you can be as open and honest in a reliable and appropriate way to your child, perhaps informed by many of guides produced by leading charities and experts out there, you will help your loved ones feel involved, and hopefully minimise any feelings of loneliness in a stressful situation.
If you also need advice as you are starting to go through a separation or would like to start divorce proceedings, and indeed want to know how to protect your home or best alter your living arrangements appropriately, get the impartial legal advice you may need.
Other useful websites https://www.fathers-4-justice.org/
Shirley Mist has been involved in fashion and design for many years. She has also written extensively for many online publications. She currently writes for The Tribune World and is a valued member of our team.