When you have a bad credit rating, it often becomes hard for you to get a mobile phone contract. However, this doesn't always need to be the case as there are options still available to people like you, as you will see in our explanation below.
Furthermore, the moment you get your hands on a SIM-only contract, you get an opportunity to finally start improving the credit rating. With time, this will allow you additional options that you can continue exploring.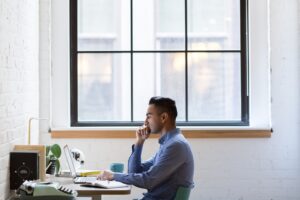 Is It Possible to Obtain a Sim Card Even When You Have a Bad Credit Rating?
The answer to this question is a simple YES. Apart from the Pay as You Go option, it's also possible for you to choose a SIM Only Plan that doesn't require a credit check. It's one of the most popular options provided by different networks. We will look at some of the networks that provide this option later.
Additionally, depending on how bad your credit rating is, you may still get to pass the credit check, more so when dealing with the SIM Only deals. The reason for this being that the credit checks for this kind of deals are way easier to pass compared to the Pay Monthly plans, which happen to offer you an opportunity also to buy a phone.
Are The Credit Check Sim Only Options Best for You?
Typically, the answer to this question is dependent on the kind of credit rating that you already have. For those that have already been refused the SIM-only contracts by their preferred networks, then the only option left to them is to explore the no credit check SIM deals.
Having a credit rating that is good enough to pass the SIM only credit check means that the no credit check won't be necessary for them and that they are at liberty to choose any networks they prefer.
Once you have noted this, you will also come to realize that there is no downside to choosing a plan that doesn't include a credit check. It's something that applies to those who are already happy with the network allowances and prices.
Are There Networks That Provide No Credit Check Sim Only Options and Deals?
FreedomPop, EE, Asda Mobile, Voxi, SMARTY, Giffgaff, and Lebara are some of the networks known to provide SIM-Only options to customers that don't want a credit check. All plans provided by these carriers are thirty days long. What this means is that the clients have an option to either cancel or change their plans at the end of each month.
Apart from this, you will note that the networks tend to stand out in their own way, as explained below:
EE
At the moment, EE happens to be the biggest name providing no credit check Sim Only deals. But then again, most of their Sim Only deals tend to include credit checks. If you want to avoid the credit checks, you will need to choose one of their Flex plans.
Flex plans normally come with a monthly payment, as is the standard when dealing with the Sim Only deals. You, therefore, don't need to worry about having to top up frequently. Another thing you will realize is that these options don't include a contract.
It's a fact that not only makes them a bit weird but also a middle ground for customers that don't want to choose between the Pay as You Go bundles and the Sim Only deals. When it comes to functions, they work in the same manner as the Sim Only deals.
A customer that has unused data will note that it will be rolled over to the next month. Moreover, EE will also include an additional 500MB to their monthly allowance after every ninety days. Simply put, this is a plan that is designed to reward loyal customers.
VOXI
All VOXI thirty-day SIM-Only options are prepaid, which means there's no need for the carrier to conduct a credit check for interested customers. The network also provides its clients with an unlimited data plan that also offers 5G support. By the time of writing this article, the network had limited all its plans to 4G.
However, it's always advisable to choose a plan that doesn't limit the data. It's the kind of plan that will allow you unlimited use of Facebook Messenger, Snapchat, Pinterest, Instagram, Twitter, Facebook, and WhatsApp, without it having to affect your data allocation.
Considering that VOXI is operated and owned by Vodafone, it means you will get a signal in all the places that have its network.
Lebara Mobile
Lebara is another network known to offer the thirty-day Sim Only deals that don't include a credit check. Even though the data allocations it provides can't match what the other networks mentioned above offer, it stands out because it does offer free international calls.
It's what makes it an ideal choice for customers who have family or friends living abroad.
The carrier also provides free-roaming for customers living in the EU as well as India, which is an option provided by very few carriers. Lebara Mobile relies on the Vodafone infrastructure for it to operate. Clients in the UK will, thus, continue to get signals in all the places they are used to.
As a client using Lebara Mobile, you are guaranteed at least ninety-nine percent 4G population coverage on any given day.
Giffgaff
Although Giffgaff does have a range of options, what makes it stand out is the unlimited data option. The carrier calls it the 'Always On' deal. It comes with eighty gigabytes of data provided at 4G speeds. When this data allocation ends, you still get to continue surfing, but with a capped speed of 384 kilobytes per second from eight in the morning to midnight each day.
The network is also known to provide highly competitive prices, while also making it possible for its users to tether the allocated data. All this is in addition to providing free roaming all over the European Union. Its operations rely on the O2 infrastructure, guaranteeing users 4G coverage across the UK.
By the time of writing, the carrier didn't have a 5G service.
SMARTY
SMARTY Mobile is a carrier that stands out by ensuring that customers don't waste their data. It makes a refund for any data that isn't used, meaning you will only pay for what you have already used.
Past this, the network also provides an unlimited data plan. However, this plan is exempted from the normal data refunds. You can use this allocation to tether as it doesn't have any limits, even when using the unlimited data option.
Its network operates via the infrastructure provided by Three, guaranteeing users around ninety-nine percent 4G coverage in the UK.
Asda Mobile
Affordability is one of the things that makes the carrier stand out. It additionally runs on the EE infrastructure, providing ninety-nine percent 4G coverage to UK users.
Furthermore, users in the EU are guaranteed free-roaming as well as the ability to tether. While Asda Mobile may not be seen as the most interesting carrier in this list, it does, however, provide excellent value to users.
For clients who are not looking for a big data allowance, this is an ideal network to consider.
FreedomPop
FreedomPop is among the cheapest networks you will find around. For clients who have used mobile phones for a long time, they may remember that its basic plans were free a while ago, though this has changed.
In addition to being free and not conducting a credit check on its clients, the carrier doesn't do much to help it stand out from its competitors. You should note that it doesn't support roaming and that tethering will cost you extra.
But then again, if you are only interested in a secondary or basic plan, it will get the job done for you. It relies on the infrastructure offered by Three, thereby guaranteeing ninety-nine percent 4G coverage to the entire UK population.
Does Choosing a Sim Only Deal Assist in Enhancing My Credit Rating?
Simply put, YES, it does! Opting for a Sim Only plan will involve signing a credit agreement regardless of whether the carrier will conduct a credit check or not. What this means is that if you remain up to date with all your payments, then you will continue to build up on your existing credit rating.
For clients that would like to start with a plan that doesn't include a credit check, they should be happy to note that this may assist in boosting their credit rating. As they continue to make monthly payments, it will come a time when they will get to make a move to any desired plan on offer.
How Do I Retain My Current Number?
As soon as you have ordered for the SIM card, all you will need to do is to call the old network. Make sure to request for the PAC code during the call. On the other hand, you can also text the word 'PAC' to the number 65075.
You will then have to wait for the new SIM card to get delivered and then proceed to activate it. Once activated, ensure you have duly filled the transfer form offered by the new network. You can find the form online on the official website.
The website will ask you to submit the PAC code that you had asked for earlier, as well as the number you were using before, including the temporary number in use now. Your number will get transferred as soon as you are done with the form.
SIM Card Size—Which One Do I Need?
Today, many carriers will send their clients SIM cards having multiple sizes. They refer to them as a combi, trio, or multi-SIM card. A user will, therefore, need to choose their preferred size once their SIM card gets delivered. For those that aren't sure about which size to go for, they should consider comparing the new SIM card to the old one.
Another option is to go online and Google your phone's make and model. There is, however, a big chance that your phone is using a nano-SIM, more so if you bought your phone in the last few years. The nano-SIM happens to be the smallest sim card in use by most of the handsets manufactured recently.
Shirley Mist has been involved in fashion and design for many years. She has also written extensively for many online publications. She currently writes for The Tribune World and is a valued member of our team.