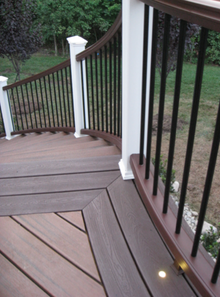 Composite decking is, today, more than just an alternative to wooden decking; its eco-friendly properties (composite decking is made of recycled plastic and recycled wood fibres), long lifespan, low maintenance cost, and resistance to the outside elements.
It's because of its recent innovation and newfound popularity with homeowners, that the Composite Decking and Railing Market is rapidly growing and is expected to attain high numbers by 2020. The Composite Decking Market is said to be growing at about 12.6% per year whereas Wooden Decking Market is sustaining a CAGR of 1.4%, but while these numbers chose the new popularity of composite decking, their market size shows that timber decking is still a giant in the decking industry. Wooden decking's market size is expected to grow from $7.2 billion (£5.45 billion) in 2015 to $7.8 billion (£5.9 billion) by 2021, when composite decking market size is smaller but growing more rapidly with $1.7 billion (£1.3 billion) in 2015 to $3.1 billion (£2.35 billion) in 2020.There are now over 90,000 searches on Google very month for composite decking which is climbing month on month.
The main companies on this market are Trex (US), TimberTech (US), AZEK (US), Dura-Life (US-Australia), Evergrain (US), Fiberon (US), LumbeRock (US), Cali-Bamboo (US) and CertainTeed EverNew (US-Canada) eco composite decking (UK). Therefore North-America show for the majority of the market share, while Asia Pacific, Middle-East and Africa's shares are planned to grow more rapidly in the future, and Europe keeping its shares relatively unchanged.
Market segments of composite decking are divided between application, types or usage. While homeowners are seen as the main user of composite decking for garden renovation projects, but the non-residential application market segment is expected to grow rapidly, for marinas, commercial establishment patios or flooring, docks, or public boardwalks. Capped composite decking have an additional resin protective layer on top of the wooden core which makes it especially useful in situations where rotting, mold growth, color fading, splintering will happen and when maintenance needs to be as minimal and un-costly as possible. Capped composite decking used for dock and marina decks is a great way to ensure the quality of the materials used for a long time, as its waterproof and need only bi-annual maintenance.
While Composite Decking Market isn't a big as its timber competition, composite decking is sold at a higher price point than traditional wood decks due to it being a higher investment than the initial cost of wood decking. Today, composite decking is still an increasingly popular option for homeowners' decking and renovation projects, for its qualities compared to wooden decking. Demand for composite decking is expected to grow due to the increase of low maintenance building projects due to its wide array of available choices: with its colors, patterns or types such as recycled/new plastic, wood fibres or bamboo fibres…
Shirley Mist has been involved in fashion and design for many years. She has also written extensively for many online publications. She currently writes for The Tribune World and is a valued member of our team.