The exterior door offers security, visual appeal, and insulation from the elements. Thus, these aspects are important when buying your exterior door and picking the material. You can use various materials today including wood and steel. Here is a breakdown of the materials you could use for your exterior door.
Wood
Traditionally, exterior doors have been made of wood. It is easy to understand why wood is loved so much. The main reason is that it is beautiful and easy to customize. There are many wood options from which to pick. For instance, you can use fir, oak, pine, and maple. Besides that, there are many finishes from which to choose. They include the paint colour that matches the décor to varnishes. This can enhance the beauty of the wood. The wood may also be cut to fit the entryway. Thus, doing unconventional shapes or sizes is quite easy.
Its main downside is that it can sag, peel, or warp with time. It is especially so when the wood is subjected to the elements. Thus, wood is best suited for covering areas or when used in combination with storm doors. Weather stripping could help with durability and insulation too. Wood will require some maintenance with time in the form or refinishing and repainting.
A solid-core wooden veneer door could be less expensive compared to using solid wood. The solid-core door is also less prone to warping and increases the insulation ability of the door. Like all type of wood doors, thicker panels, rails, stiles, are a good way for increasing the durability and strength.
Steel
Insulated steel is a great energy efficient option that is also durable and offers great security. Steel doors offer more insulation compared to wood. In some cases, they offer five times more insulation value. Besides that, they are the most secure option for an exterior door, and they require very little maintenance. Additionally, they come in different styles and can be painted in any colour. However, they are not as easy to shape as wooden doors. Steel is typically less costly compared to fiberglass and wood doors.
While these doors will not warp, they do rust and dent. The wood-grain finish that is sometimes added to these doors is not as nice as real wood. Besides that, some finishes will need to be repainted occasionally. They are also not easy to cut down to fit on an already built frame. While the doors are low-maintenance, fixing a dent can almost be impossible. It might mean you have to replace the door when a dent occurs since it might no longer fit into the frame.
Fiberglass
Fiberglass doors that are insulated will usually be made of composite materials. Just like steel, these doors are quite secure and energy efficient when compared to wood. The doors are quite sturdy and durable. They require only little maintenance throughout their life cycle. They have wood-mimicking finishes that are quite believable and beautiful to look at. The best part about these doors is that there is little threat of warping and there are numerous options for painting and staining. While they are susceptible to fading, there are almost no downsides. However, this type of door is one of the most expensive options. They will cost the same as high-end wood doors.
Glass
Glass doors look attractive but they are also costly. If you are buying a glass door, consider a double cylinder deadbolt lock. You will need a key to open the lock whether you are outside or inside, which means that burglars can simply break the glass to open it. In some places, the double-cylinder lock is banned due to how difficult it is for emergency services to enter the home. Ensure that your local authorities allow such types of locks to be installed. Besides that, ensure that the key is always in arms' reach of the internal lock. A major downside of glass doors is that they have low insulation value. However, this issue can be solved using double glass panels. The cushion of air in-between is quite effective at insulating the interior of the house. If you have the money and need a bit of style, this door works just great.
Composite Doors
A composite door is one of the latest options you have when choosing materials for your door. These doors are designed with the common flaws of single-material doors. By using a combination of materials, you will get all the benefits offered by each material. The doors have high resistance to weathering and will not be affected by the normal flaws that afflict single material doors. For instance, they offer better insulation compared to wooden or steel doors since they have a foam core.
They will not be affected by warping as the seasons change and can last longer. These doors are also aesthetically pleasing. While they look like wooden doors with an attractive wood effect, they do not fade or lose colour with time. Maintenance is done using a damp cloth. In short, these doors work great due to the huge amount of materials used to design them. Composite door prices tend to be higher than uPVC doors, however they have come down in price with there rise in popularity, and they start from around £600 unfitted.
Aluminum
Aluminium doors offer great strength, energy efficiency, and durability. They work in much the same way as steel and fiberglass. They require little maintenance compared to wooden doors. These doors will not rust or chip with time. The doors are often used as storm doors or patio frame doors. Aluminium doors are easy to shape in any design that you might have as a homeowner.
Vinyl
The material is often used for patio door frames. It is usually a great low-price option. The material is energy efficient but comes in only a few styles and colours compared to frames of other materials. When picking the material, it is important to think of the location and climate.
Summary
A door expert is important when you decide to replace your door. He or she will advise you on the best option depending on where you live. This way, you do not end up with a material that will affect the energy efficiency of your home. Besides that, the style will influence the material you can use. Wood is much easier to shape compared to steel for instance. Door installation is a process that requires experienced hands to ensure that you do not end up with a door, which requires a lot of force just to open or close.
Your front door is one of the first things visitors see when entering your property, so needs to look good, and offer good security and insulation for both heating and sound.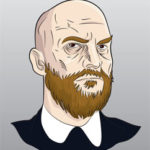 Has worked for many Internet marketing companies over the years, and has contributed to many online publications. If there is a story, he will find it.