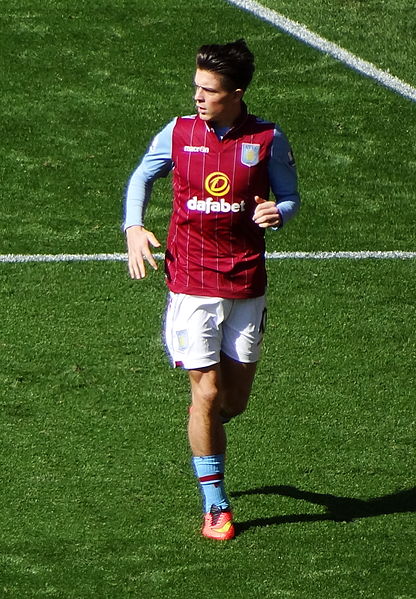 Birmingham City fan Paul Mitchell was handed a 14-week prison sentence at Birmingham Magistrates' Court for the mid-game assault he launched on Aston Villa's Jack Grealish during last weekend's derby fixture between the two sides.
27-year-old Mitchell invaded the St Andrew's pitch ten minutes into Sunday's match, before running up behind the unaware Villa captain and delivering a sucker-punch to the midfielder's head. Although floored by the assault, Grealish suffered no apparent loss of form and went on to score the only goal in Villa's 1-0 victory over their local rivals.
Grealish, 23, said:
he felt lucky not to have been severely hurt, adding: "It could have been so much worse had the supporter had some sort of weapon."
Speaking through his solicitor, Mitchell was unable to justify the assault and claimed that his initial motivation was "to just go onto the pitch and whip-up the crowd."Mitchell, from Rubery in Bromsgrove, Worcestershire, was additionally fined £350, including £100 compensation to Grealish for the discomfort & shock of the incident. Magistrates furthermore banned him from all football grounds for ten years.
Birmingham City, on whose home turf the assault took place, stated that there were "no excuses" for Mitchell's conduct which it said had "no place in football" and added, "Again, we apologise to Jack and all at Aston Villa Football Club."
The club also stated that it had issued Mitchell with a total ban for life, not only insisting that he would never be readmitted to St Andrew's stadium but also that he would be permanently blocked from ever again purchasing tickets to away games, either in person or by proxy.
The attack inevitably led to incandescent exchanges between rival fans online, which escalated to include comments relating to Jack Grealish's late brother, Keelan, who died at just nine months when Grealish himself was only four. Birmingham City later said that a second fan had been banned for life, over abusive Twitter posts—and West Midlands Police confirmed that they were continuing to review complaints made as a result of abusive tweets.
Aston Villa said in a statement that the attack had been "cowardly", adding that "Local rivalries are part of the fabric of the game. However, as we are sure our friends at Birmingham City would agree, to have a player's personal safety placed under such jeopardy is a serious cause for concern for the entire football community."
Referencing a second on-pitch attack which occurred the same day, this time on Manchester United's Chris Smalling by an Arsenal fan at Emirates stadium, the Football Association stated that "a line had been crossed in terms of fan behaviour" and that it was "entirely unacceptable" for players' safety to be put at risk. The FA said that it had written to both Birmingham City and Arsenal "to seek their observations and examine the security measures they had in place."
Shirley Mist has been involved in fashion and design for many years. She has also written extensively for many online publications. She currently writes for The Tribune World and is a valued member of our team.