Kourtney Kardashian deeply understands Khloe Kardashian's struggles. Recently, the E! News confirmed that the star and Tristan Thompson, who is her NBA pro beau, had called it a quit amid the news of an alleged scandal involving Jordyn Woods and Thompson. The two exes have experienced a rocky romance since the time the athlete was involved in a cheating scandal around the period of their daughter's birth.
Appearing on the famous Ellen DeGeneres show, the TV host, asked the socialite Kourtney Kardashian about the two as well as their on-and-off nature. Ellen asked Kourtney Kardashian about the possibilities of Khloe and Tristan getting back together again, and she said that she doesn't think deeply into the matter and she understands that Khloe is strong enough and feels that she is in a perfect place.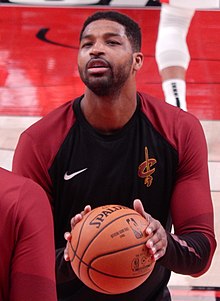 What shows Scott Disick and Tristan Thompson are similar?
Kourtney believes that most individuals love to see their families staying together and she worked hard to achieve this for many years. During this time, she was referencing their long-time relationships with the father of her children and ex-boyfriend Scott Disick. The reality star understands that she is good at handling her emotions and moments like these, she believes this really brings their family together.
She said that most people realise how essential their family is and she understands that bringing the family together is the best thing she can do. Scott said that she is the best mom ever to her daughter and two sons and that is the direction that all of their thoughts and energy are going towards. Now Scott and Kourtney can offer some assurances since they have found the much-needed harmony as co-parents.
Kourtney told DeGeneres that they are getting along well. According to Kourtney, Scott makes it clear that the children are his priority. She said that he checks with her each morning throughout the day and every night to ensure that the family is good and the children are good too. Currently, Khloe Kardashian can count on Scott Disick as she heals the broken heart following the split with Tristan Thompson's (The baby's father).
According to various sources, Khloe Kardashian has her family members and friends rallying around her as she manoeuvres through the breakup with Thompson and Kourtney Kardashian's ex, Scott Disick is also one of her supporters. Scott and Kourtney are currently in a good place, and the two are getting along perfectly.
Scott has been supporting Khloe Kardashian throughout the drama, and he is there to help Kourtney through the difficult times in her life since they share a close bond. Kourtney and Khloe both appreciate that Scott acts like a protective big brother. Recently, Scott Disick surprised Khloe Kardashian when he posted an image of the keeping up with Kardashians star to his personal Instagram account and claimed that Khloe was his women crush. Khloe was shocked by Scott Disick's post. However, she understands that he was only trying to express his love and support following all the drama she has been dealing with in her recent life.
Shirley Mist has been involved in fashion and design for many years. She has also written extensively for many online publications. She currently writes for The Tribune World and is a valued member of our team.