10 of the Best Coffee Shops in Cardiff
A great coffee shop is a haven from everyday life – that special place where you can enjoy the perfect flat white, a tasty light-bite and a little time to relax. Cardiff is not lacking in these little independent gems that are just waiting to be discovered; here is a list of the top 10.
1. Uncommon Ground Coffee Roastery
The baristas at this family-owned place really know their stuff. They craft the perfect cup of coffee using top-quality beans that are roasted in-house. Along with their delicious range of espresso-based drinks, they serve a tasty selection of paninis, cakes and pastries. And if you fall in love with their coffee, you can buy a bag of your favourite roast to brew at home. Located in the centre of town, tucked away inside the historical Royal Arcade, the shop is a calm and spacious oasis with a comfortable, urban style.
2. Bigmoose Coffee Co
Great quality coffee and exceptional food are at the heart of this café's ethos. They also give all their profits to worthwhile local causes such as help for the homeless and disadvantaged families. The breakfasts and brunches served at Bigmoose are raved about, as are their light lunch options. The cake of the day always comes recommended, and they also offer delicious vegan sweet treats. The shop has friendly staff and a Scandinavian-style décor, and it can be found in the town centre on Frederick Street.
3. Nata & Co Bakery
This Portuguese bakery boasts three locations in Cardiff – Castle Street, Clifton Street and Bute Street. Top of the menu and not to be missed is the traditional Pastel de Nata; a flaky-pastry custard tart that simply melts in the mouth. This café offers a coffee-with-pastry price that is hard to beat, making it the ideal mid-morning bolt hole. Along with a selection of Mediterranean cakes, Nata & Co serve light breakfasts and appetizing lunches.
4. The Organic Café
Superb coffee Italian style is served at The Organic Café by staff who go out of their way to be friendly and helpful. Tempting cakes, fresh salads and delicious paninis are on the menu too – all created with the best organic ingredients. It may not look it from the outside, but the interior is spacious and light, and when the weather is fine, there's a garden to enjoy at the back. The café is situated on Caerphilly Road.
5. The Deck
If you love cake, then this is the place for you. The mouth-watering selection on offer at this family-run coffee shop is unbeatable. Cupcakes of every flavour decorated with love are the speciality of the house, each one a delicious work of art. And if you're looking for a special treat, their afternoon tea comes with finger sandwiches, scones and slices of homemade cake. This delightful cafe can be found hidden off the beaten track on Harrowby Street.
6. Quantum Coffee Roasters
This place takes its coffee seriously. They roast their own beans and go out of their way to select exotic and unusual produce from far-flung countries. Their passion is evident in the coffees and loose teas they serve with knowledge and expertise. Along with a side dish of cake or brownie, paninis and sandwiches are on the menu too. The shop has an modern, industrial style and is situated near the Wales Millennium Centre in Bute Street.
7. Brodies Coffee Co.
When the weather is fine, a coffee break at Brodies is the perfect antidote to rush everyday life. It's a quality coffee kiosk in Gorsedd Gardens, a park opposite the stunning Civic Centre. Numerous tables and chairs are arranged outside offering a pleasant view through the trees and across the grass – a great spot to relax in the sunshine. The coffee is lovingly crafted, and the sandwiches and cakes on the menu are scrumptious.
8. Coffee Barker
With a cool and quirky style of vintage-meets-modern, Coffee Barker has a unique atmosphere. They serve expertly crafted coffee and teas along with a selection of cakes, paninis and waffles. If coffee isn't your beverage of choice, the milkshakes are highly rated and come in a mini glass milk bottle that brings a smile to the face. Located in the heart of the city, this coffee shop in Castle Quarter Arcade has plenty of on-street seating if you prefer to sit in the sunshine and watch the world go by.
9. Coffee Heaven
A great independent eatery on busy St Mary Street, the interior offers comfy armchairs and a friendly welcome. If you choose a seat near the window, it's the perfect spot for people watching. The coffee and tea is delicious, and the breakfast comes highly recommended. Their croissants, served in a variety of flavours, are ideal for a mid-morning snack, and a slice of homemade cake goes down a treat.
10. The Plan Café
This hidden treasure is at the end of the narrow Morgan Arcade just minutes from Cardiff Castle. An elegant and simply decorated place, there are two floors of seating so plenty of space for everyone. Coffees are great, and so is the choice of breakfast and lunch on the menu. An ideal place to stop for a quiet break, they also offer tempting crepes as a between-meals treat.
With the massive increase in coffee consumption over the last few years it is not hard to see why there are so many great coffee shops are springing up and with studies showing coffee may have many health benefits such as protecting against Parkinson's disease and liver disease. But as with any thing to much of a good thing can be bad, so consumption of unfiltered coffee should be taken in moderation to avoid elevations in cholesterol levels.
Also adding cream and sugar will increase fat and calories, so go for your favourite coffee but have just one a day.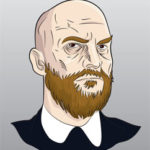 Has worked for many Internet marketing companies over the years, and has contributed to many online publications. If there is a story, he will find it.