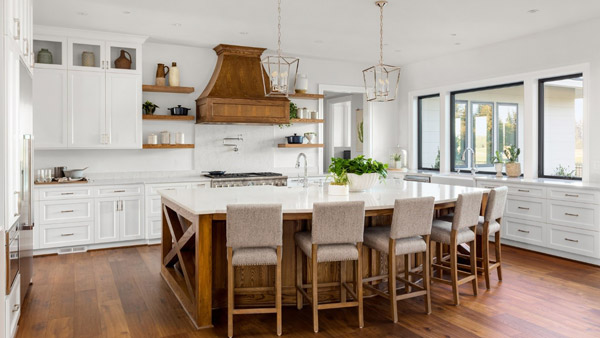 Homeowners don't always have an extensive budget to work with to hire a professional kitchen design company, especially when they're remodeling the entire kitchen. That means that some corners may have to be cut (even if you don't technically want to cut them).
The first question you'll want to ask yourselves is: Where can I knock down prices in my kitchen remodel?
The answer to that question can go on, and on, and on. You can keep your budget in line by limiting the amount of money you're spending on new flooring. You can cut costs when it comes to purchasing new appliances. Heck, you can spend a few less bucks on your new cutlery, dishes, and glasses. But that's not what we're here to talk about today.
Today, our primary focus is going to center around affordable kitchen countertop materials. We know what you're thinking right now: You don't want to cheap out on one of the most important areas of your new and improved kitchen.
Well, we're here to tell you that that's not the case AT ALL. Cutting costs doesn't mean you need to technically 'cheap out' your kitchen. In fact, you can quite literally purchase outstanding kitchen countertop materials that look just like the expensive stuff – and we're going to guide you in the right direction to do just that.
Without rambling any longer, let's get started!
Laminates are great – love them just like any other.
We understand the dilemma here: Laminate countertops don't necessarily win points in the kitchen remodel category. Why? Probably because they don't look so great.
BUT, think about this – technology has improved these countertop materials drastically. And, what's more is that they're super cost effective and will keep you right in line with your budget.
Laminate may be cheaply made with thin sheets of laminate material and MDF fiberboards, but that doesn't mean its durability is any less strong.
Head on over to your local home improvement store, like Home Depot or Lowe's, and bee-line it to the countertop division. Grab the slabs you want and have them installed in as little as a few hours. It's that easy.
You can go with ceramic tile – it's a classic.
Ah, ceramic tile … it's a favorite among homeowners, especially those wanting to do their own in-home projects.
There is one little teeny tiny problem with this option that you should be aware of before you ask all of your questions to the local professional, though: Seems are very visible in these tiles. If you cook a lot, this may not be the best countertop material for your home.
Instead of actual granite, try out tile granite for a change.
Almost every homeowner wants slab granite – because it's obviously perfectly crafted within the Earth's layers and it's extremely durable to almost every condition a kitchen is susceptible to facing. However, granite isn't always the most affordable option for remodeling – that's where tile granite comes in handy.
Tile granite can be purchased in either 12-inch or 16-inch squares, and no shipping costs are charged with the purchase. If you want things to go even more swimmingly, head on down to your local tile store to pick the tile granite up yourself.
You should keep in mind that this option must be installed with epoxies – which ultimately means that the tiles have to be fit together closely. What's the best part about this whole situation? You won't need to grout the tiles together! And, you can turn it into a DIY project, without the assistance needed from a professional.
Slab granite alternatives do exist – it's called modular engineered stone.
Many people associate engineered stone with quartz countertops, but to be honest, quartz countertop costs are not something to mess with when it comes to inexpensive countertop material options – unless you're shopping in the right place, even quartz countertops can be high in price.
If you are leaning towards modular stone options, your costs will dramatically drop, thankfully – with the assistance of a great professional. You will need to keep a few things in mind when shopping for these countertops, though: Modular granite is a lot bigger than tile, but it's also a lot smaller than the typical granite slab. It's also not made within the Earth; instead, it's engineered and manufactured in working facilities. It can be handled by one or two people, and you can install it yourself, which will definitely cut your costs in the professional installation department.
Paint was never an option before – but now it is.
If you're looking to makeover your kitchen countertops with the smallest budget possible, think about using paint to spice up your kitchen surfaces.
Remember, you can paint all of the following countertop materials: Laminate, tile, cultured marble, and solid surfaces. First you have to prime the material, paint the material, and then finish up by sealing it to ensure that outside liquids and circumstances don't seep through to damage the countertops.
Homeowners don't necessarily consider it – but wood is an option, too.
Wood, better known as butcher-block, can add a lot of warmth to the kitchen – and with not too high of a cost range.
Depending on the wood that you choose will depend on the end costs; but that's okay. Just heed advice from your local professional and you'll be A-OK. Remember, options include bamboo, maple, and poplar (if you're sticking with the popular choices). Other woods can be used, but these are the most cost-efficient on the market today.
Always keep one other factoid in mind: If you go with a wood countertop, you will need to oil the surfaces every couple of years.
Now that you know the basics, it's time to head on over to your local home improvement store, tile manufacturer, or other necessary professional to narrow down the countertop options that are right for you.
If you're still second guessing the option you're leaning towards, ask for a small sample to bring home and test out. See if it matches, see if it's resistant to the things you want it to be resistant to, and see if everyone in the household agrees with your decision thus far.
Other than that, we wish you luck in your shopping endeavors and hope you find the right countertop material for your household.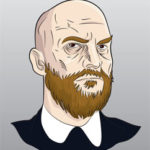 Has worked for many Internet marketing companies over the years, and has contributed to many online publications. If there is a story, he will find it.