A study has shown we spend approximately one-third of our lives in our bedrooms. Your bedroom is your haven, it is a place of comfort. The style, the decorations and more importantly, the flooring in your bedroom, should be attractive and captivating. There are some factors to take into account before choosing a flooring option for your bedroom. Highlighted below are an array of flooring options, and factors to evaluate when choosing flooring which appeals to your taste and preferences.
The Available Bedroom Flooring Options
Carpet Flooring
In terms of comfort, carpet is unrivalled and is one of the most popular flooring options. It is warm, soft and soothing to your feet. Carpet claims precedence over other flooring options because it retains heat hence ensuring your feet do not get cold. Furthermore, it gives the bedroom a luxurious and attractive look. Carpet has a variety of options on design, patterns and colours. They come in various types and materials, for instance, Textured, Saxony, Berber, Level loop and Frieze.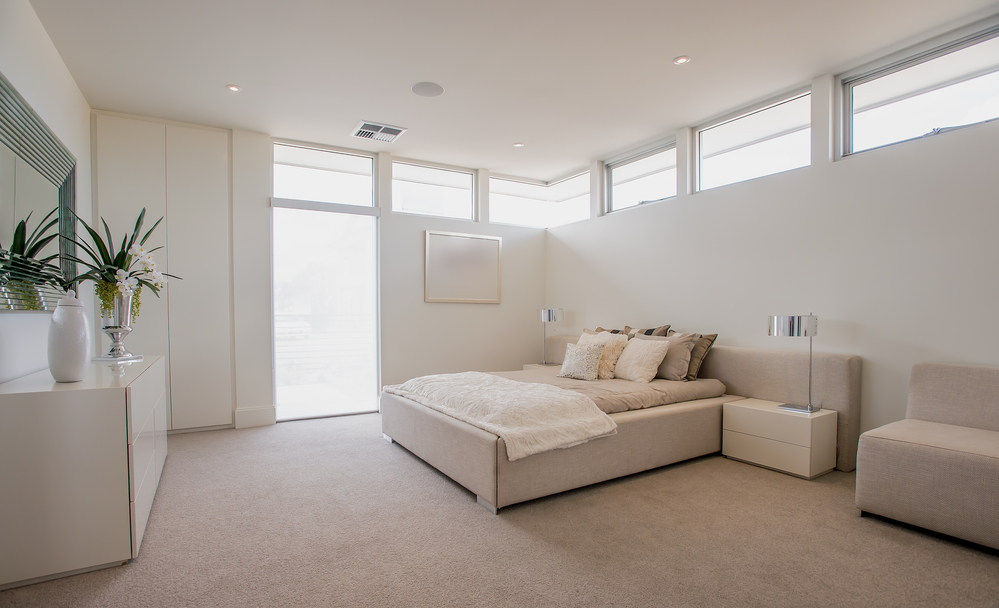 Laminates
Laminate flooring adds a desirable contemporary look to your bedroom. It is affordable, yet versatile. You can select from a wide range of available finishes and easily match one with your interior décor. This flooring comprises of three main layers, the bottom layer is a dense fibreboard and is responsible for flexibility and firmness of the floor. The second layer has a plastic laminate, with woodgrain effects, that make it resemble a real hardwood floor. Lastly, the top and most outer layer, has a clear veneer that protects the laminate flooring from scratches, and wear and tear. Laminate flooring is easily customizable for your needs and requirements.
Bamboo Flooring
Bamboo flooring is cheaper compared to other flooring types and is environmentally friendly. Its regeneration process is fast and swiftly harvestable. Bamboo flooring has plenty of options for colours and grain type. This flooring contains strips and planks that fit firmly together.
Wood Flooring
Wood flooring is easy to clean and maintain. It has an attractive look and gives your bedroom a natural feel. The durability of wood flooring is unquestionable because it can last for years and possibly, decades, without replacement. You can effortlessly disinfect this type of flooring. All you need to do is mop or steam the wood, and in no time, your room will be free from any bacteria conceivable. One drawback, however, is that unlike carpet, wood flooring does not maintain heat. You can overcome this challenge by pairing the wood floor with a rug or buy flooring with an underfloor heating feature.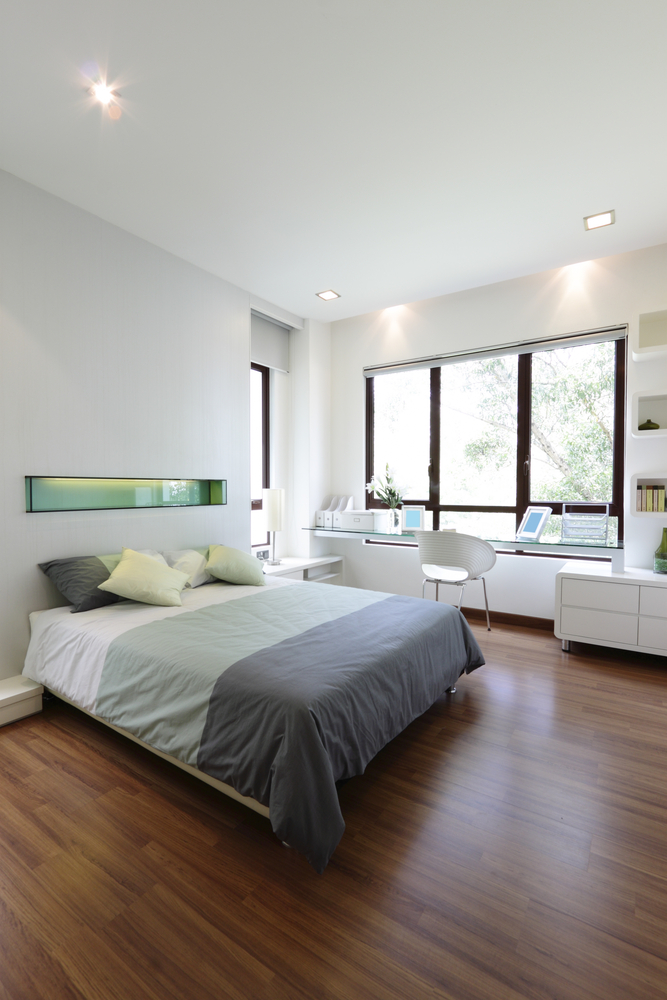 Vinyl Flooring
Although vinyl flooring is not very popular nowadays, it is still a great option for your bedroom, considering its features and traits. Similar to laminate flooring, vinyl flooring is versatile and comes in an array of designs and colours that you can match with your furniture and interior décor. Vinyl flooring is also easy to clean and maintain. Its installation is simple, fast and does not require technical expertise. You can do it yourself once you know how to. Lastly, vinyl flooring is waterproof, spilling water or coffee on this floor should not worry you.
Factors To Consider Before Choosing An Option
Budget
Your budget should be the first thing to consider before choosing your flooring as different flooring options have varying prices. Wood flooring is the most expensive and vinyl and laminate flooring are the cheapest. As you assess your budget, take into account the installation cost. Wood flooring can be costly and time-consuming to install. You will not incur installation cost on carpet, vinyl and laminate flooring. These three are easy to install and require little to no expertise.
Bedroom Occupants
The master bedroom and children's bedroom ought to have different flooring material. The children's bedroom flooring needs to be colourful and capable of maintaining heat. Carpet would be the most suitable option for a child's bedroom. The master bedroom, in contrast, should have a luxurious design. It should be attractive but not too colourful. Laminate flooring is suitable for a master bedroom. Your selection, however, boils down to your tastes and preferences.
Shirley Mist has been involved in fashion and design for many years. She has also written extensively for many online publications. She currently writes for The Tribune World and is a valued member of our team.