An accounting system is a crucial aspect of any company, mainly if it's a new business. Without setting up an accounting system, a company cannot maintain a good record of its assets. Additionally, it won't have clear records of whom it owes cash or any due payments from its clients.
Further, an organization's cash flow has needs careful monitoring to avoid overspending needlessly and as a measure for its pricing strategy. Setting up an accounting system for a new business may be complicated. However, with the right tips, creating such a system can be simple as long as the company understands what its assets are and to whom it owes cash.
The initial stage of a business is when a company is required to create a structure that would support the company's finances in the future. Here are a few steps to consider when setting up an accounting system for your new company.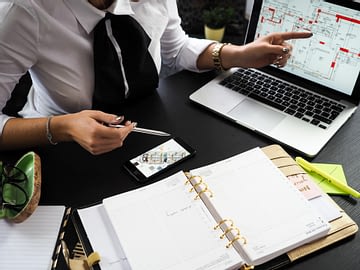 CREATE A SIMPLE ACCOUNTING SYSTEM
At the early stage of a business, a company only requires a simple and affordable accrual-based accounting system. There are several cost-effective alternatives to select from that can help your company keep track of expenses. Archimedia accounts will help us to step up an accounting system easily. There are many high-end alternatives you can select for your company. However, even though the high-end accounting systems have many benefits, they may be too expensive and needless for a company that is just starting.
CREATE A CHART OF ACCOUNTS
A chart of accounts is a listing of all the accounts that companies will utilize while conducting its business. For instance, some of the accounts listed on a chart of accounts include payroll, revenue, accounts receivables, utilities, cash, accounts payable, and supplies.
The accounts that your company will list in the chart of accounts depends significantly on the type of accounting system it uses. For instance, an accrual accounting system will utilize a double-entry accounting system. Therefore, in this case, your company will include accounts like accounts receivable and accounts payable (that is if the company offers goods and services on credit).
OPEN A COMPANY BANKING ACCOUNT
Opening an official company banking account that has online payment features will assist you to avoid needless manual banking and better handle the company's cash flow. A good business account should be able to automatically send invoices to your clients and assist your company in evading cash shortfalls. It should help you achieve this by drawing in the company's receivables and extending out payables. Besides, a business banking account should optimally consolidate with the company's accounting software for fast and simple banking.
DIFFERENTIATE PERSONAL AND COMPANY EXPENSES
Refrain from your company's business account for personal transactions. You can achieve this by creating corporate checking & saving accounts. Besides, ensure you keep different income statements and balance sheets for personal and business expenses. Utilize checks from your company's business banking accounts or distinct business credit/debit cards to cater to all your company transactions.
MAINTAIN RECEIPT AND INVOICE RECORDS
As a new company, maintaining a clear record of each transaction can assist the business in the long run. Besides, keeping records of receipts and invoices can be helpful when your company needs to pay taxes. You can keep receipts and invoices in either their physical form or they can be scanned and stored on the cloud technology for easy accessibility from any geographical location.
CREATE A LIST OF WHAT YOUR COMPANY OWNS
You should make a list of all the materials your new company possesses. These items are considered your company's assets in the accounting system. For instance, you can list items such as office supplies, vehicles, office equipment, cash, and premises.
DEVELOP A PROCEDURE FOR COLLECTING PAYMENT
Every business should create a procedure for payment collection. Having such a process helps a company understand where and when cash is to be received. Remember to maintain records for your company's new clients. Besides, ensure you develop credit policies and establish payment collection deadlines, so your customers understand their obligation. For instance, you can create a simple procedure for payment collection using PayPal or other e-commerce payment platforms.
FINAL REMARKS
Setting up an accounting system for your new company can mean the difference between business success and failure. New companies lack the financial muscle to overcome all the economic challenges they face, and lack of an accounting system can only worsen everything. Therefore, use the steps in this post to set up an accounting system for your new company.
Shirley Mist has been involved in fashion and design for many years. She has also written extensively for many online publications. She currently writes for The Tribune World and is a valued member of our team.