Stair renovation is often considered one of the more difficult home renovation projects. This is because staircases are usually built into the house at odd angles and take up an awkward amount of space. The bigger problem, however, is that stairs are used so frequently and have a lot of impact on the traffic flow of your house. But stairs can be also a great focal point in your home if they are done correctly.
The key to renovating stairs is to make sure it's suited for the space you have and what your needs are. Make sure first of all, that you don't go overboard with design choices – do not create something so elaborate that you will hate looking at it every day.
So, if you're thinking of renovating your stairs in 2022, here are some top tips to help you get started!
Tips for Stair Renovation in 2022
1. Plan Ahead: Make sure you plan everything out before you start renovating. This will save you a lot of time and hassle in the long run.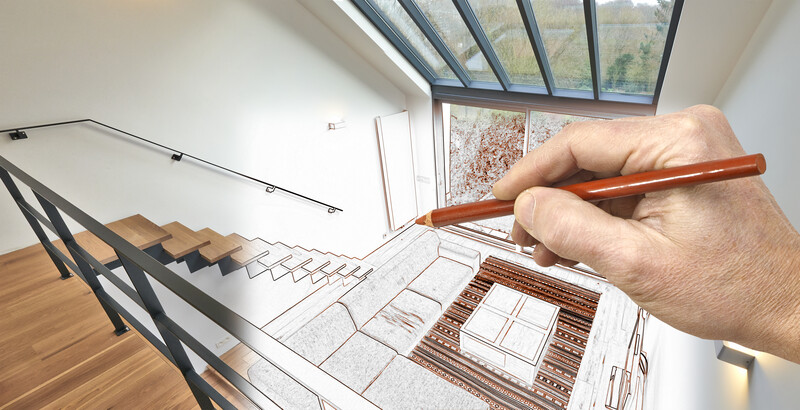 When renovating stairs, it's important to remember that they play an important role in the traffic flow of your house. Not only do they connect different levels of your house together, but they are also frequently used. This means that any renovation you do should be well thought out and planned ahead.
One way to make sure your stairs renovation goes smoothly is to make a scale drawing of your staircase. This will help you get a better idea of how much space you have to work with and what sort of design you can go with. You can find plenty of online resources that can help you with this, or even take a picture of your stairs and use software like Photoshop to create a drawing.
Another thing to keep in mind is the need to prepare for your stairs renovation. For example, if you are going to replace parts of your stairway – perhaps replacing bannisters or removing carpets, take note of how much space there is in between the flooring and the walls so you have an idea if it's enough room for what you want to do.
2. Choosing the Right Style: Choose wisely among a few different styles, and make sure the style suits both the space you have and your own personal taste.
Modern Staircase: If you're going for a modern look that is clean and minimalistic, then choose wooden stairs with light railings. To enhance the other common elements in your home, such as doors and/or windows, use other designs like chrome or nickel or even glass to make them stand out even more.
Vintage Staircase: If you're going for a vintage style that is typically associated with older houses, use railings that are ornate and perhaps design your stairs to curve. Make sure to use a colour scheme that matches the time period these types of designs were made
Gothic/Industrial: If you're going for a more "Gothic" or industrial look, add some wrought iron railings and add nice big chunky bannisters. Keep your colour scheme dark, perhaps opting for black and silver to really give off that 'industrial' look.
3. Consider the Functionality: Remember that stairs are used very frequently, so make sure they are both functional and practical.
Don't choose any designs that will be difficult or dangerous to use. Remember that you and your family will be using them every day so you don't want to chance to trip or injure yourself.
You should also take into consideration the amount of space and access, and the materials you want to use. For example: If you have a large staircase it might be better to install firmer carpeting on each step rather than plush carpeting – this will make it safer for people to walk up and down as they won't fall as easily.
4. Enhance the Rest of Your House: make sure the other elements in your house such as doors and windows stand out even more!
One way to enhance the look of your stairs is by using materials that contrast with them. For example, if you have a really modern and minimalistic staircase, use doors and windows that have a more vintage look to them. This will help to break up the space and make your house look more cohesive.
Another way to enhance your stairs is by using lighting. If you don't have a lot of natural light in the area, consider installing some accent lighting. This can be done in a variety of ways, such as LED string lights or even floor lamps. Not only will this help to make your stairs look nicer, but it will also make them safer to walk up and down in the dark.
And finally, if you want to make your stairs stand out, even more, use paint! Painting your staircase can be a great way to give it that extra something without having to do any major renovations. This is especially helpful for older houses where there might not be enough space or money to redo the entire thing.
5. Don't Overdo it!
When it comes to renovating, people often overdo things and end up hating the result – don't let this happen to you! Make sure you keep your designs simple and not "overdone" so that it enhances the rest of your house rather than take away from it!
Renovating your stairs is a big decision and can be difficult to do. You want something that will enhance the rest of your home without taking away from it, but also ensure you're not doing any damage in the process. Alternatively, when you renovate your stairs make sure they are both functional and practical – no one wants to use impractical or dangerous design elements! With these tips in mind, we hope that 2022 will bring with it lovely new staircases for everyone.
Shirley Mist has been involved in fashion and design for many years. She has also written extensively for many online publications. She currently writes for The Tribune World and is a valued member of our team.