Paddle boarding is a great way to stay active and have some fun outdoors. It can be done in many different settings, including oceans, lakes, and rivers. However, before you go out and purchase your first paddle board, there are a few things you should know. In this blog post, we will discuss the basics of paddle boarding and provide tips on what paddle board clothing you will need in order to stay comfortable while enjoying this activity. Some key things to consider when choosing paddleboard clothes include:
– how warm or cold the weather is likely to be
– whether you will be doing any swimming or kayaking while paddle boarding
– how wet you are likely to get paddling.
What is Paddle Boarding?
Paddle boarding is a sport that involves using a paddle to propel yourself across the surface of the water.
What Do I need to Paddle Board?
To get started paddle boarding, you will need a paddle board, paddle, and appropriate paddle board clothing. Different types of paddle boards? Touring paddle boards, surfing paddle boards, and racing paddle boards are the three most popular types of paddle boards. Touring paddle boards are suitable for paddling along rivers or lakes for a leisurely paddle. Surfing paddle boards are used to catch waves and perform tricks in the ocean. Lastly, racing paddle boards are designed to be lightweight and fast and are used for paddle board racing.
What Kind of Paddle Board Clothing Do I Need?
If you are paddle boarding in the UK, then it is important to consider the temperature and the amount of water that you will likely encounter during your paddle-boarding session. The key to staying comfortable while paddle boarding is wearing the appropriate paddleboard clothing. So, what kind of paddleboard clothing should you wear in the UK?
The paddle board clothing you will need to paddle board in the United Kingdom depends on a few factors, including the weather and how wet you're likely to get. In general, it is best to wear quick-drying materials such as polyester or spandex in order to keep you dry and comfortable. A paddle board life jacket is also recommended, as well as a hat and sunglasses for protection from the sun. If it's cool outside, a windbreaker or neoprene paddle suit will provide extra warmth. A paddle leash can also be useful, as this will attach your paddle to your paddleboard so that it doesn't get lost in the water. Lastly, always remember to wear shoes that can be securely fastened to your feet to protect them from sharp objects and rocks on the paddle board.
Tips for staying comfortable while paddle boarding
– Wear the right paddle board clothing for the weather: always make sure you are wearing paddle board clothes that are suitable for the weather and water temperature.
– Bring a paddle leash: attaching your paddle to your paddleboard with a paddle leash will prevent it from getting lost in the water.
– Wear shoes: wear sturdy shoes that can be securely fastened to your feet in order to protect them from sharp objects and rocks.
– Wear sunscreen: sun protection is important, so make sure to wear sunscreen, a hat, and sunglasses when paddle boarding.
– Stay hydrated: always bring plenty of water with you on your paddle board adventures to stay hydrated.
– Have fun: paddle boarding is a great way to explore nature and have fun, so don't forget to enjoy yourself!
How to store and care for your paddleboard gear
– Protect your paddleboard: store your paddleboard in a cool and dry place, away from direct sunlight. If you're storing your paddleboard outdoors make sure to cover it with a paddleboard cover to protect it from the elements.
– Clean your paddleboard: rinse off your paddleboard after each use with fresh water to remove any dirt or debris.
– Take care of paddleboard clothing: paddleboard clothes should be washed after each use with cold water and a gentle detergent. Hang dry all paddle board clothes in order to keep them looking their best.
– Store paddleboard accessories properly: store paddle accessories such as paddles, life vests, paddle leashes, and fins in a dry, cool place to prevent them from becoming damaged.
– Check your paddleboard regularly: inspect your paddleboard for any cracks or damage before each use, as this can cause the board to become unstable and unsafe.
By following these tips you'll be able to enjoy paddle boarding safely and comfortably while taking good care of your paddleboard and paddleboard clothing. With the right paddleboard clothing and accessories, you can paddleboard in the UK all year round. Have fun out there!
Additional activities that can be enjoyed while paddle boarding
Paddleboarding is a great activity that can be enjoyed all year round in the UK. Not only can paddle boarders use their paddleboards to explore nature and take in stunning views, but there are also many other activities that paddle boarders can enjoy while out on the water. Here are some additional activities that paddleboarders can partake in while paddleboarding in the UK:
– Kayaking: paddleboarders can paddle with a kayak to explore further and faster.
– Fishing: paddle boarders can use their paddleboards as a stable platform for fishing.
– Floating yoga: paddle boarding is an ideal place to practice yoga, as the gentle movement of the paddleboard can help to deepen your practice.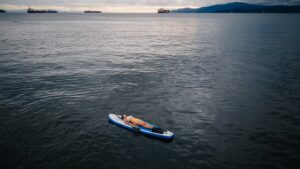 – Sightseeing: paddle boarders can enjoy stunning views while paddle boarding, and use their paddleboard as a platform for sightseeing.
– SUP games: paddle boarders can play fun paddle board games such as paddle tennis or paddle polo with friends and family.
So, paddle boarders don't just have to paddle around – they can also engage in a range of activities while paddle boarding. With the right paddle board clothing and equipment, paddle boarders in the UK can enjoy all these activities and more!
Summary
Paddleboarding is an increasingly popular activity that can be enjoyed all year round in the UK. In order to paddle board safely and comfortably, paddle boarders should invest in quality paddle board clothing and accessories such as life vests, wetsuits, shoes, paddles, and paddle leashes.
Shirley Mist has been involved in fashion and design for many years. She has also written extensively for many online publications. She currently writes for The Tribune World and is a valued member of our team.